Add to Favorites
Mobile Phones
·
Blackberry
·
LG
·
Motorola
·
NEC
·
Nokia
·
Panasonic
·
Sagem
·
Samsung
·
Sendo
·
Sharp
·
Siemens
·
A50
·
A55
·
A57
·
A60
·
A65
·
A70
·
A75
·
AX75
·
C55
·
C60
·
C62
·
C65
·
C75
·
CF62
·
CF75
·
CFX65
·
CL50
·
CL75
·
CX65
·
CX70
·
CX75
·
CXT65
·
M55
·
M65
·
M75
·
MC60
·
S55
·
S65
·
S75
·
SF65
·
SK65
·
SP65
·
ST55
·
ST60
·
SL55
·
SL65
·
SL75
·
SL85
·
SX1
·
SXG75
·
Sony Ericsson
·
3G Mobile Phones
·
Coming Soon
Mobile Phone Networks
·
3
·
O2
·
Orange
·
T-Mobile
·
Vodafone
·
Virgin Mobile
Mobile Connections
·
Pay Monthly
·
Pay As You Go
·
Pre Pay
·
Upgrades
·
Handset Only/Sim Free
Mobile Accessories
·
Bluetooth Headsets
·
Ringtones
Webmasters
·
Link Exchange
·
Link Directory



This site is not affiliated with Siemens, if you wish to visit Siemens please click here

Designed for consumers with an active outdoor lifestyle, the new M75 from Siemens Communications is not only robust it also looks good and offers the latest in entertainment convenience. Thanks to the unique Siemens Protection System, it can easily withstand dust, splashes and shocks. With its rugged metal frame and protective rubber sides, this phone shrugs off everything the elements can throw at it. And since Mother Nature often offers the most beautiful photo opportunities, the M75 comes with an integrated 1.3 megapixel digital camera too. But it doesn't stop there: this versatile outdoor mobile phone also offers an MP3 player, and an optional portable Mobile Music Set as accessory ensuring even more fun whilst on the move. These active loudspeakers allow sharing music with others in high sound quality.
Equipped with the Siemens Protection System, this new outdoor mobile phone is just as tough as its owner. If it falls to the ground at work, while hillwalking or if it is left lying on the beach the M75 just takes it all in its stride. The phone is protected by an integrated aluminum frame with solid rubber cushions on the sides of the casing and still it only weighs just 110 grams. Especially the display is protected by the metal frame from scratches and breaking. Detachable rubber seals also keep dust and splashes off the built-in 1.3 megapixel digital camera and other particularly sensitive parts.
The robust casing conceals the very latest in advanced technology. The M75 displays its all-round talents not only as a mini camera and media player for photos and videos, but also as a mobile MP3 player. It is possible to access the personal photo album or music collection at any time on interchangeable multimedia memory cards. The excellent display renders photos and videos in 262,000 vivid colors. Sending short greetings on the move is also quick and easy with multimedia messaging (MMS) or e-mail.

·Coming Soon
·More information on the Siemens M75 features


Available on:


Other Mobile Phone Sites

Mobiles 2 Your Door - Siemens M75
Mobiles 2 Your Door offers the latest mobile phones across all Networks at great prices over the Internet.
---
e2save - Siemens M75
e2save.com is a mobile phone retailer with great mobile phone deals on the T-Mobile, Vodafone, Orange, O2 and 3 networks. Bargain mobile phones are also available in our SIM Free section.
---
Phones 2 U Direct - Siemens M75
Phones2udirect offer the latest handsets from all major manufacturers, connecting them to Orange, Vodafone, O2, T-mobile and now 3!
---
JustPhones - Siemens M75
JustPhones.co.uk is the UK´s leading supplier of Mobile Phones and Accessories. We have over 5,000 products available and can ship anywhere around the world. We offer the lowest prices on the web and our prices and service make us THE BEST MERCHANT in this sector.
---
MobileShop
Mobile Phones - FREE Orange mobile phones, Vodafone mobile phones, T-Mobile mobile phones, O2 mobile phones and 3G mobile phones. Free mobile phones, cash back and mobile phone accessories. Free UK delivery and award winning customer service.
---
Fonehouse - Siemens M75
The UK's No 1 direct mobile phone specialist. Order online, call us free or we'll call you.
---
Carphone Warehouse - Siemens M75
The Carphone Warehouse is the largest mobile communications retailer selling mobiles phones, contracts and pay as you go mobile phones from all the major suppliers and providers.
---
Mobiles.co.uk - Siemens M75
Mobiles.co.uk was the first mobile phone web site in the UK and have been trading online since 1995, longer than any other mobile phone dealer. We deal direct with Orange, O2 and 3 (for 3G Video Phones) and are approved dealers for T-Mobile and Vodafone enabling us to offer the best deals around for your customers. We offer free next-working-day delivery on everything and great Free Gifts for customers including Cashback, DVD Players and Digital Cameras.
---
OneStopPhoneShop - Cheap Siemens M75
OneStopPhoneShop is one of the largest mobile phone dealers in the country, shipping many thousands of handsets, on all networks, every month. Free mobile phones on all networks, vodafone, o2, orange, 3, tmobile
---
Affordable Mobiles - Siemens M75
Affordable Mobiles is an online retailer of the latest mobile phones. We offer unbeatable deals on all 5 major networks. We are independant and therefore not tied to any one specific network, thus providing the customer with the best possible advice.
---
Fonetastic Mobile - Siemens M75
Unbeatable prices on all mobile phones, Contracts, pay as you go mobiles, ringtones, logos and accessories. For Vodafone, Orange, O2 or T-Mobile networks.
---
Mobiles Please - Siemens M75 Mobile phone
Welcome to Mobiles Please. The number 1 site for all your mobile needs. All manufacturers at the lowest prices on the web! Whether you need sim free, pay as you go, contract or accessories, Mobiles Please is the number 1 Mobile Solution!
---
Direct Mobile Phones - Siemens M75
Direct Mobile Phones are one of the UK's leading suppliers of mobile phones on-line. Offering all of the latest handsets from the UK's five national Networks - Orange, T Mobile, O2, Vodafone & 3
---
Mobile Phone Central - Siemens M75
Mobile Phone Central - Established as one of the UK's premier independent mobile phone retailer since 1991, this site now allows you to enjoy all the benefits of buying from Mobile Phone Central without leaving your home.
---
Mobile Rainbow - Siemens M75 Mobiles
With 10 Years experience in telecommunications, Fone Station is at the forefront of Retail Mobile Phones. Our aim is to provide our customers with the best offers and after care service on the market today.
---
Idealfones
UK online mobile phone shop. Cheap mobile phones, best deals and free offers.
---
Mobile Dealer - Siemens M75
We offer all the networks, all the latest handsets and our special offers are the best on the net. We also offer FREE DELIVERY on all orders.
---
Buymobilephones.net - Siemens M75
Buy Mobile Phones is one of the UK's leading mobile phone websites, featuring FREE DELIVERY on a wide range of mobile phones and mobile phone accessories.
---
Coolnewmobile - Siemens M75
Coolnewmobile - Offering the latest Contract Phones including the Siemens M75 at the most competative prices around.
---
Mobile Chooser - Siemens M75
Mobilechooser sells the cheapest phones in the UK at the cheapest prices with a price-beating guarantee
---
O2 - Siemens M75
We offer fantastic mobile internet phones all with FREE text messaging*, If you want an O2 mobile phone why not buy it now from O2. They also have some good deals on the Siemens M75.
---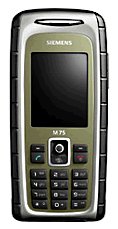 Last Updated Thursday 01/06/2006