Add to Favorites
Mobile Phones
·
Blackberry
·
LG
·
Motorola
·
NEC
·
Nokia
·
Panasonic
·
Sagem
·
Samsung
·
Sendo
·
Sharp
·
Siemens
·
A50
·
A55
·
A57
·
A60
·
A65
·
A70
·
A75
·
AX75
·
C55
·
C60
·
C62
·
C65
·
C75
·
CF62
·
CF75
·
CFX65
·
CL50
·
CL75
·
CX65
·
CX70
·
CX75
·
CXT65
·
M55
·
M65
·
M75
·
MC60
·
S55
·
S65
·
S75
·
SF65
·
SK65
·
SP65
·
ST55
·
ST60
·
SL55
·
SL65
·
SL75
·
SL85
·
SX1
·
SXG75
·
Sony Ericsson
·
3G Mobile Phones
·
Coming Soon
Mobile Phone Networks
·
3
·
O2
·
Orange
·
T-Mobile
·
Vodafone
·
Virgin Mobile
Mobile Connections
·
Pay Monthly
·
Pay As You Go
·
Pre Pay
·
Upgrades
·
Handset Only/Sim Free
Mobile Accessories
·
Bluetooth Headsets
·
Ringtones
Webmasters
·
Link Exchange
·
Link Directory



This site is not affiliated with Siemens, if you wish to visit Siemens please click here

The C75 from Siemens Communications is a functional yet attractive mobile phone that suits all budgets. This companion is extremely lightweight and compact and fits snugly into your pocket. With this modern tri-band mobile phone, users can stay in contact nearly everywhere in the world. The integrated VGA camera featuring 5x digital zoom makes it possible to take beautiful souvenir pictures and even shoot short video clips. The images and clips are shown to brilliant advantage on the large, colorful and extra bright display of the C75. Even when on the move, friends and family at home can easily share in the excitement through multimedia messaging. The built-in organizer with address book helps users keep an overview of all appointments, tasks and contacts at all times, even with today's hectic lifestyle.

Elegant design and leading-edge mobile phone technology for everyone: the Siemens C75 combines aesthetics and functionality at an affordable price. At first glance, its slim shape, gently rounded curves and gleaming matt surface stand out. The compact dimensions of 103 x 44 x 17 mm and low weight of 85 grams make the ergonomically designed mobile phone a neat companion. Discreet chrome elements frame the display and the central navigation button and underscore the overall impression of elegance made by this new C-class fashion accessory.

The C75 lets users do a lot more than just make and take calls. The versatile tri-band mobile phone offers everything needed for contemporary communication on the move: In addition to multimedia messages (MMS) and an e-mail client, instant messaging is also available for low-cost mobile online chats with friends and colleagues. All newly received messages are shown clearly in the standard inbox.

The built-in VGA camera with 5x digital zoom and video function transforms the mobile phone into a handy camera. In addition to pictures and graphics, films can be viewed in brilliant optical clarity on the 1.8 inch high-resolution TFT color display (132 x 176 pixels, 65k colors). The integrated photo editor can be used to give pictures a final touch-up while the attachable IFL-600 flash makes great pictures possible even in poor lighting conditions .

A trip to the real estate agent tomorrow, a business lunch today or an appointment in the fitness club this evening – an integrated organizer is available with an address book, calendar and to-do list for efficiently planning your day-to-day life. And if there is time in between, relaxing 3D games will keep boredom away. The user-friendliness of the C75 is evident in the large, clearly laid out keys and intuitive menus.

And for added convenience, practical Siemens accessories are also available: the elegant Headset Purestyle HHS-610 adds particularly to the overall impression of elegance exuded by the C75. The Car Kit Comfort Basic HKC-700, the portable Car Kit Easy HKP-700 with integrated telephone holder as well as the Car Kit Portable HKP-500 are ideal accessories for safe and reliable use in the car. A selection of data cables, chargers and cases is also available.

·More information on the Siemens C75 features


Available on:


Other Mobile Phone Sites

Mobiles 2 Your Door - Siemens C75
Mobiles 2 Your Door offers the latest mobile phones across all Networks at great prices over the Internet.
---
e2save - Siemens C75
e2save.com is a mobile phone retailer with great mobile phone deals on the T-Mobile, Vodafone, Orange, O2 and 3 networks. Bargain mobile phones are also available in our SIM Free section.
---
Phones 2 U Direct - Siemens C75
Phones2udirect offer the latest handsets from all major manufacturers, connecting them to Orange, Vodafone, O2, T-mobile and now 3!
---
The Link - Siemens C75
The Link - Online Mobile Phone Store for Pay Monthly Mobiles, Pay As You Go Mobiles & SIM Free. Choose from T-Mobile, Orange, Vodafone, O2, 3, BT Mobile & Virgin Mobile
---
JustPhones - Siemens C75
JustPhones.co.uk is the UK´s leading supplier of Mobile Phones and Accessories. We have over 5,000 products available and can ship anywhere around the world. We offer the lowest prices on the web and our prices and service make us THE BEST MERCHANT in this sector.
---
MobileShop
Mobile Phones - FREE Orange mobile phones, Vodafone mobile phones, T-Mobile mobile phones, O2 mobile phones and 3G mobile phones. Free mobile phones, cash back and mobile phone accessories. Free UK delivery and award winning customer service.
---
Fonehouse - Siemens C75
The UK's No 1 direct mobile phone specialist. Order online, call us free or we'll call you.
---
Carphone Warehouse - Siemens C75
The Carphone Warehouse is the largest mobile communications retailer selling mobiles phones, contracts and pay as you go mobile phones from all the major suppliers and providers.
---
Mobiles.co.uk - Siemens C75
Mobiles.co.uk was the first mobile phone web site in the UK and have been trading online since 1995, longer than any other mobile phone dealer. We deal direct with Orange, O2 and 3 (for 3G Video Phones) and are approved dealers for T-Mobile and Vodafone enabling us to offer the best deals around for your customers. We offer free next-working-day delivery on everything and great Free Gifts for customers including Cashback, DVD Players and Digital Cameras.
---
OneStopPhoneShop - Cheap Siemens C75
OneStopPhoneShop is one of the largest mobile phone dealers in the country, shipping many thousands of handsets, on all networks, every month. Free mobile phones on all networks, vodafone, o2, orange, 3, tmobile
---
Affordable Mobiles - Siemens C75
Affordable Mobiles is an online retailer of the latest mobile phones. We offer unbeatable deals on all 5 major networks. We are independant and therefore not tied to any one specific network, thus providing the customer with the best possible advice.
---
Fonetastic Mobile - Siemens C75
Unbeatable prices on all mobile phones, Contracts, pay as you go mobiles, ringtones, logos and accessories. For Vodafone, Orange, O2 or T-Mobile networks.
---
Mobiles Please - Siemens C75 Mobile phone
Welcome to Mobiles Please. The number 1 site for all your mobile needs. All manufacturers at the lowest prices on the web! Whether you need sim free, pay as you go, contract or accessories, Mobiles Please is the number 1 Mobile Solution!
---
Direct Mobile Phones - Siemens C75
Direct Mobile Phones are one of the UK's leading suppliers of mobile phones on-line. Offering all of the latest handsets from the UK's five national Networks - Orange, T Mobile, O2, Vodafone & 3
---
Mobile Phone Central - Siemens C75
Mobile Phone Central - Established as one of the UK's premier independent mobile phone retailer since 1991, this site now allows you to enjoy all the benefits of buying from Mobile Phone Central without leaving your home.
---
Mobile Rainbow - Siemens C75 Mobiles
With 10 Years experience in telecommunications, Fone Station is at the forefront of Retail Mobile Phones. Our aim is to provide our customers with the best offers and after care service on the market today.
---
Idealfones
UK online mobile phone shop. Cheap mobile phones, best deals and free offers.
---
Mobile Dealer - Siemens C75
We offer all the networks, all the latest handsets and our special offers are the best on the net. We also offer FREE DELIVERY on all orders.
---
Buymobilephones.net - Siemens C75
Buy Mobile Phones is one of the UK's leading mobile phone websites, featuring FREE DELIVERY on a wide range of mobile phones and mobile phone accessories.
---
Coolnewmobile - Siemens C75
Coolnewmobile - Offering the latest Contract Phones including the Siemens C75 at the most competative prices around.
---
Mobile Chooser - Siemens C75
Mobilechooser sells the cheapest phones in the UK at the cheapest prices with a price-beating guarantee
---
O2 - Siemens C75
We offer fantastic mobile internet phones all with FREE text messaging*, If you want an O2 mobile phone why not buy it now from O2. They also have some good deals on the Siemens C75.
---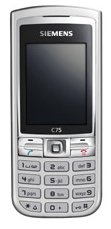 Last Updated Thursday 01/06/2006