LG L5100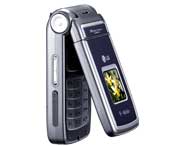 The LG L5100 is available from the shops below:
Is it a camera or a phone? The exterior design would suggest that the L5100 is merely a high quality digital camera but under its skin lies a fully functional mobile phone and more! Incorporating an intenna and the latest mobile phone technology the L5100 is more than meets the eye!
Take amazing, high resolution photos with the built-in 1.3 megapixel digital camera. Whilst other VGA digital camera phones are restricted to taking photos with a resolution of 640X480 pixels, the L5100 can take photos at an amazing 1280X960 pixels! You can rest assured that every little detail is captured for you to remember.
* 4X digital zoom
* Flash
* With various options such as white balance, panorama and more you know you'll take the perfect picture.
* Add frames to pictures and make someone smile!
* Either send an image immediately after you have taken it or keep it in the phones photo album.
* Use pictures taken with the digital camera as wallpaper for either the interior or exterior screen of your phone!
·
Dimensions (mm): 98 x 45 x 26
·
Weight: 120g
·
Standby Time: Up to 200hrs
·
Band (MHZ): 900/1800
·
Internal Display: 262k TFT Type, 176 x 220
·
External Display: 65k TFT Type, 96 x 96
·
Sound: 40 polyphonic
·
WAP Browser: 2.0
·
Messaging: SMS, EMS, MMS
·
Connectivity: IrDA, USB and RS232 Data Kit
·
Accessories: Travel Adapter, Hands Free Kit
·
More information on the LG L5100 features